Refrigerator Repair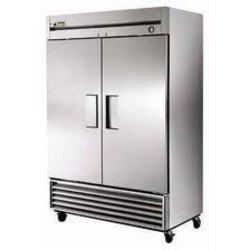 Your refrigerator is one of the hardest working appliances in your home. It constantly runs in order to keep your foods as fresh as possible. Unfortunately, though, such hard work often takes a toll on a refrigerator and causes it to experience problems. If your refrigerator is leaking or not keeping your foods fresh enough, then you need to call a refrigerator repair service right away. Timely refrigerator repairs can often mean the difference between prolonging the life of your unit and having to purchase a new one. For dependable refrigerator repair in Dale City and the surrounding areas, contact the pros at All City Appliance Repair, Inc. Our team of refrigeration repair professionals can provide you with speedy and precise repairs for an affordable rate.
At All City Appliance Repair, Inc., our team of refrigerators repair experts can offer service for both residential and commercial models. Our EPA-certified technicians will carefully analyze your refrigerator to determine what the cause of problem is and offer a solution that will help your unit last for years to come. Call us today if you want to save yourself the stress of dealing with spoiled food or the expense of having to purchase a new fridge. Contact our refrigerators repair team if your fridge exhibits any of the following issues: 
Strange noises
Internal or external leaks
Faulty ice maker
Constant cycling
Not running at all
Insufficient cooling
Excessive frost accumulation
Or other performance concerns
If you notice any of these signs, then you need refrigeration repair right away. Delaying could end up being costly, and you don't want to risk your food spoiling or having to shell out a lot of cash for a replacement refrigerator.
While you may be tempted to get out the refrigerator repair manual and try to fix your fridge on your own, doing so is not advisable. This can be dangerous to your health, and it could also end up costing you more money in the long run. It's much better to let the refrigerator repair pros at All City Appliance Repair, Inc. handle any problems that arise with your fridge, freezer, or ice maker. We can supply repairs for all major brands, including GE refrigerator repair and Maytag refrigerator repair in a safe and effective manner. Call or e-mail us today to learn more about our 90-day parts and labor warranties or to get a free estimate!
Refrigeration Repair
Refridgerator Repair
Refrigerators Repair